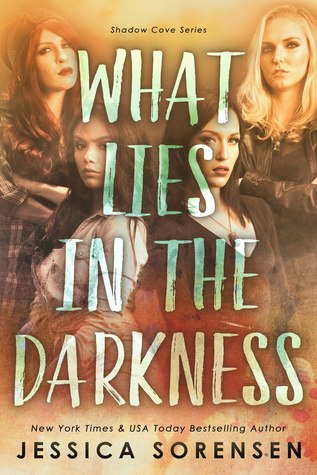 Official Blurb:
In the mostly wealthy town of Shadow Cove, nothing is what it seems…
When Makayla's older brother, Sawyer, is found dead, the police rule his death a suicide. But her father, a reporter for the local paper, believes Sawyer was murdered and begins his own investigation to prove it.
Eight months later, he vanishes without a trace, and Mak is left trying to live a normal life in a town that ridicules her family. And it doesn't help that every time she gets too stressed out, she starts seeing the ghost of her brother. 
All Mak wants is a little bit of normalcy, so when an opportunity arises to participate in the local skateboarding charity event, Mak grabs onto the chance to do something she used to enjoy doing.
In order to pay the pricey entry fee, Mak decides to call a number on a reward poster for a lost laptop, figuring she'll be able to make use of the mystery-solving skills she picked up from her father.
With the help of her three best friends, she begins searching for the missing laptop. But what starts out as a simple case, ends up turning into a mystery full of twists and turns that show a darker side of Shadow Cove.
Follow the four friends as they discover the secret societies and deadly games hidden in the glamorous side of Shadow Cove.
A YA Mystery series with a splash of paranormal.
Review:
Holy cliffhangers Batman! Talk about a book hangover. I'd venture a guess that this is the most intense novel you can find for under a dollar! (Currently $0.99 on Amazon)
I didn't know what to expect from book one of Jessica Sorensen's new Shadow Cove series, but if you're craving a little mystery/suspense with strong friendships and (obviously) cute boys, this if for you! What Lies in the Darkness is a short novel at 132 pages and can be read in a couple of hours. And ohhhhh what an awesome couple of hours it shall be!
Despite it's length, I didn't feel frustrated as I closed the book, except the obvious gut wrenching desire to throw my kindle across the room because… that cliffhanger, man! Every character develops and shows off more than two-dimensions really well.
As a sucker for a love story, my only disappointment was that there wasn't much of that. But there were plenty of cute moments that made my heart skip a beat or two and the wonderful friendships between Mak and her best friends was more than enough to make up.
All in all, I was thrilled to have read this title and will impatiently be awaiting the release of the next… and the next. If you don't have the ability to handle cliff hangers, maybe wait until the whole series is released – which will hopefully be soon.